Imprima esta historia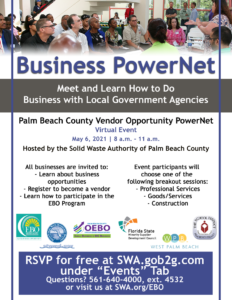 Date: May 6, 2021
Time: 8:00AM – 11:00AM
The Business PowerNet is a win-win situation for all involved. All businesses are invited to meet and learn how to do business with local government agencies. Learn about amazing opportunities and benefits from speaking directly with buyers and key decision makers in an intimate breakout session.
Breakout Sessions:
Professional Services Industry
Goods/Services Industry
Construction Industry
Register for this virtual event today! You will hear about new projects and connect with other industry leaders. Prepare to be inspired to learn how to participate in the Equal Business Opportunity Program and with other partnering agencies.
Thank You For Registering!
Please share the Business PowerNet Flyer with your friends and colleagues.
Questions? (561) 640-4000, ext. 4532
RSVP TODAY at SWA.gob2g.com, and click the "Events" tab