Secciones
El Domingo 6 de Abril, las candidatas a Miss Princesita Palm Beach hicieron su presentacion antes los medios de comunicacion y publico en general, en el acojedor salon del hotel Embassy Suite de West Palm Beach. Fue una hermosa tarde, con un bello sol y las adorables princesitas, llenaron con simpatia, gracia y sus bellos y angelicales rostros el amplio salon, muchas de ella con portes de princesa, otras con rostros de munecas en fin fue algo realmente hermoso dificil de explicar, la presentacion fue fabulosa e inolvidable. Nuestros aplausos y felicitacions para todas las candidatas tambien a sus padre y abuelos que estaban hemocionados y orgullosos de sus pequenas, a Lissette Diaz su fundadora y Directora a Jose el coreografo a todos los que forman parte del comite organizador y tambien a todos los que particparon con su arte que nos hiceron disfrutar a todos los presentes. Nos complace de manera especial seguir informando sobre las proximas actividades de Miss Princecita Palm Beach.
El jurado estaba formando por Jairo Penagos (Pintor), Anay Palacios locutora (Hablemos), Daisy Cedeno, Raymundo Velazquez Hidalgo (Profesor de Danza), Alain del Castillo (Actor).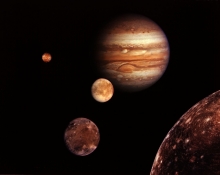 Por Dan Liftman – NASA scientists announced Thursday that photos taken by the Cassini spacecraft have revealed the existence of an ocean the size of Lake Superior under the surface of Saturn's moon Enceladus.  Shocked scientists were joined by anthropologists and linguists from across the globe to announce that they have also discovered a race of aquatic beings in the sea.
The creatures identified in Cassini photos appear to be humanoid, green in color and averaging six feet in length.  Dr. Venus Crosby, head of the Cassini mission, told the press, "We are truly astonished.  There appears to be a fully developed society beneath Enceladus' surface.  These people – yes, I'd call them people – are leading normal lives – normal for them, anyway."
Dr. Samuel Marston, an anthropologist from Boston University, who has been studying the creatures, said, "I'm amazed.  We've been searching for extraterrestrial life for decades, and we seem to have finally found it.  I never would have thought that humanoid beings could live under water."  Most surprising of all, however, are the revelations by world renowned linguist, Dr. Dawn German-French.  "Based on what we've seen, the society on Enceladus is on a level with our own."
As examples, German-French spoke of a sign she interpreted on a structure that appeared to be a restaurant ("Waterman's specials today include fried octopus, broiled squid and linguini with clams and mussels.  Swim on in!").  A sign… Sigue leyendo →