Imprima esta historia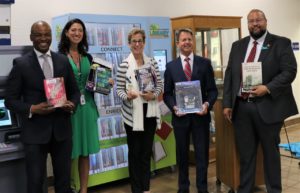 El martes 14 de marzo a la 1:00 p. m., el Sistema de bibliotecas del condado de Palm Beach dio a conocer su último recurso disponible para que los miembros de la comunidad accedan a los materiales de la biblioteca: el gabinete Library to Go.
Similar a una máquina expendedora, los titulares de tarjetas del Sistema de Bibliotecas del Condado de Palm Beach ahora pueden tomar prestados libros nuevos y populares de este dispositivo. Además, los miembros pueden devolver cualquier material de la biblioteca al gabinete Library to Go usando su tarjeta de biblioteca.
El director de la biblioteca, Douglas Crane, dio la bienvenida a los invitados a la gran inauguración del primer gabinete de su tipo del Sistema de Bibliotecas del Condado de Palm Beach. "Estamos muy emocionados hoy de lanzar Library to Go. Si va bien en el Centro Gubernamental, esperamos expandir el servicio a otros lugares".
Asistieron el alcalde Gregg K. Weiss, quien ceremoniosamente sacó el primer libro, seguido por miembros de la Junta de Comisionados del Condado, incluidos: Maria G. Marino, Michael A. Barnett, Marci Woodward y Mack Bernard. Todos estaban muy contentos de ver esta expansión llegar al Centro Gubernamental.
Cory L. McCoy, presidente de Lyngose Systems U.S., la compañía que produjo la máquina Library to Go, también estaba eufórico. «Queríamos mantenerlo súper simple y 100 por ciento móvil donde se pueden colocar estas máquinas en cualquier lugar para aumentar la experiencia de los usuarios del Sistema de Bibliotecas del Condado de Palm Beach».
Se alienta a los miembros a visitar la máquina, ubicada en el vestíbulo del Centro Gubernamental Robert Weisman en 301 North Olive Avenue, West Palm Beach 33401 durante el horario comercial habitual.
Fuente: HarrisE@pbclibrary.org