Distribution is job one in a publication directed to the large and

diverse Hispanics market.Our mission is to gather as many readers as possible for our advertisers.
We have over 100 distribution points within DMA 38, divided into 3 zon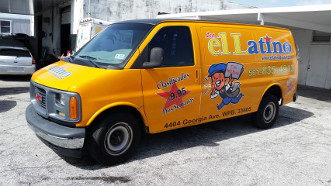 es, for our Friday print edition. Details of zip codes by zone and print distribution by zip code are in our media kit http://ellatinodigital.com/mediakit/ 
The newspaper, in its entirety, is also published online (www.ellatinodigital.com) at the same time that it is sent to the printer; making it available on any device anytime one day earlier.
The website (www.ellatinodigital.com) updates the news and content 24/7. No more obsolete weekly newspapers. No more yesterday's news with today's advertising. We are truly the fusion of print and digital.
A further use of the latest technology is a large Q code decal conspicuously placed in the front of all the distribution boxes to allow the reader to see the current edition in his or hers smart phone issue, if the box is empty.
T
he site also features a  commercial free international TV signal with news and programming 24/7.http://ellatinodigital.com/rt-tv-en-vivo/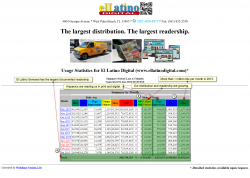 It is not an accident that
www.ellatinodigital.com
receives more than I million hits per month and over 1000 unique visits daily and growing.(sample stats attached)
The site's primary mission is to deliver the El Latino Semanal digitally; its huge traffic has allowed the placement of digital banners linked or light boxes, static or dynamic in conjunction with the print adverting. The readers can also place classified ads any time from any device using all credit cards via Paypal.