José R. Uzal
Many local newspapers had online personals in the mid 1990s but were bought out by these big dating sites. From some of the comments it really shows how desperate dating sites are for money that they even advertise in comment sections. You have a much better chance going to local events and you will probably spend less than what you would spend on an online dating site.
Other apps have indicated that they might actually move closer to Facebook. For example, Bumble, founded by a former Tinder executive, said they had already reached out to Facebook regarding how to collaborate. And, "One thing everyone seems to agree on is that Facebook's effectively endorsing online dating will be a huge legitimization event for the industry," says Jefferies Internet analyst Brent Thill. According to Amanda Bradford, chief executive of The League, an elite dating app, "Facebook is validating that dating is a high-tech industry with really interesting and hard problems to solve. Still, Facebook could face some obstacles in building enough separation between the dating service and the legacy social network; some users might not like having both activities live on one app.
After giving him some time to cope with his cat passing away, he made plans to see her again and she was thrilled. He canceled the date last minute again because he said his grandma had died. Although this seemed too tragic to be true, she gave him the benefit of the doubt that he was telling the truth.… Sigue leyendo →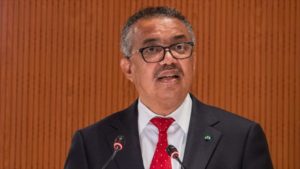 La Organización Mundial de la Salud (OMS) dice que el número de casos de la COVID-19 se encuentra en un nivel muy bajo y el fin de la pandemia está a la vista.
El director general de la OMS, Tedros Adhanom Ghebreyesus, ha afirmado este miércoles que, desde que se desató el nuevo coronavirus a fines de 2019, el mundo "nunca ha estado en mejor posición para acabar con la pandemia" de la COVID-19.
De hecho, según el funcionario, el número de muertes semanales por COVID-19 cayó la semana pasada a su nivel más bajo desde marzo de 2020.
"Aún no estamos allí, pero el fin de la pandemia está a la vista", ha indicado Tedros en una rueda de prensa en Ginebra (Suiza).
Con todo esto, ha recalcado la importancia de no frenar las campañas de vacunación ni los cuidados ni los esfuerzos de los gobiernos para terminar con el virus que paralizó la actividad social y productiva de buena parte de los países que asoló.
Ha señalado que detenerse ahora es correr el riesgo de más variantes del coronavirus, más muertes, más problemas y mayor incertidumbre. "Un corredor de maratón no se para cuando comienza a ver la línea de meta, sino que avanza hasta llegar a ella", ha subrayado, destacando la importancia de sostener las campañas de prevención y cuidado.
OMS da por casi terminada la pandemia de COVID-19 | HISPANTV