Imprima esta historia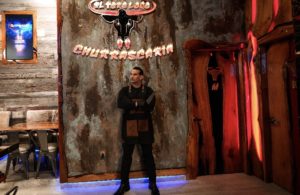 The service, food quality and ambiance are unmatched.
(Miami, Fl – August 28, 2023) – Chef Aldo Espinosa, has created a unique concept, offering patrons an unforgettable dining experience. El Toro Loco Churrascaria offers multiple locations in the City of Miami, & his most recent in the heart of Little Havana, has surpassed all expectations. The local hot spot has become the favorite among celebrities, foodies, tourists, and residents.
With attention to every detail, the staff and service is unmatched, known for their VIP service, high quality meats, and spectacular drinks, El Toro Loco Churrascaria is the place to celebrate birthdays, unique events, or perfect for just a night out. Commissioner Joe Carrollo created a proclamation welcoming the restaurant to Little Havana, making May 21st officially «El Toro Loco Day».
What can you expect when visiting El Toro Loco Churrascaria? Personalized, first class service, amazing cuts of meat such as USDA Prime Beef Churrasco, Picanha, Lamp Chops, All Natural Chicken wrapped in Bacon, Filet Mignon, Angus Burgers, Wagyu Beef Hotdog, an array of incredible appetizers, ranging from Cheesy Yuca Bites, Manchego Croquettes, USDA Prime Toro Tacos, Yuca Sticks, Meat Soup, Brisket Tamal, and amazing sides such as Garlic Rice, Mashed Potatoes, Corn on the Cob, and Tostones, to name a few. And for your sweet side, they have homemade desserts, such as Churros, Dulce de Leche Lava Cake, and a VIP tray with all of the desserts, in small portions.
El Toro Loco Churrascaria has earned its amazing reputation, because they treat all their customers with the utmost respect and provide the highest level of service, with the best quality food at affordable prices. Soon, there will be two new locations, one in Doral, the other in Hammocks, to add to the various food trucks, and their four other locations. We hope to see you in one of the Toro Loco locations, very soon, so that you can experience firsthand an incredible dining experience.
Locations:
Little Havana: 1970 SW 8th St, Miami, FL 33135
First Location: 13800 SW 8th St, Miami, FL 33184
Westchester: 8444 SW 8th St, Miami, FL 33144
Pinecrest: 6603 S Dixie Hwy, Miami, FL 33143
Kendall: 10501 SW 88th St #101, Miami, FL 33176
Bird Road: Food Truck- 11381 SW 40th St Miami, Fl. 33176
West Kendall Food Truck 12795 SW 137th Ave, Miami, FL 33186
Doral Food Truck- 7201 NW 36th St, Miami, FL 33166
Fuente: Fusion 4 Media